SLOPES - Winner
Milagros Ana de la Riva - Argentina
Teresa Vera - Argentina
SLOPES (enjoy your ice cream).
"Slopes" is a family of ice cream containers that seeks to solve the problem of getting dirty while the consumer is trying to enjoy the most wonderful dessert in the world. We made a research on the existing ice cream formats and concluded that, since they are edible, the dough vessels are one of the best packagings available for ice cream. On the contrary, there are some critical points to improve:
A) Melting and getting dirty, which causes a greater consumption of napkins and / or use of plastic or paper accessories such as the cone holder.
B) Need to eat the ice cream with a certain speed, shortening the time to enjoy it.
Tell us who you are in brief.
We are young industrial designers, graduated from the University of Buenos Aires, Argentina. We are in the process of creating a design studio that offers differential solutions to the worldwide market from a user-centered and environment-friendly perspective.
How did you discover the Award?
We discovered DESITA AWARD through the designboom.com. website which we regularly visit.
What is the main reason of participation?
Food Design seems to us an extremely rich and fun challenge and we consider that from our discipline we can interpret new solutions from a different approach to what has been done so far. Uniting the design with food is an explosive combination and we could not miss this opportunity.
What are your main sources of inspirations?
The result of the project is fruit of a strong observation and analysis around the ice-cream consumption experience. As an inspiration, we use both the experience of many other users and our own experiences of consumption as well. At the semantic and morphological level we got inspired by images of the ice cream world (melting, curved and fluid textures and shapes) and images of minimalistic language products.
What is your dream as designer?
We look for sustainability to be the central axis of all our projects and we believe that our discipline is a powerful tool of transformation for the world. We dream about being able to translate our human values into every project we carry out with passion and enthusiasm. As a short-term dream we aspire to being able to see the "Slopes" family in the world market, making the ice cream consumption experience all over the world even more enjoyable.
DUEGUSTI - 2° places
Alberto Ghirardello - Italy
DUEGUSTI (shaped injected waffle cup).
This project is dedicated to solving a problem common to many ice cream lovers: they do not want two different tastes to melt with each other, and want to stay as little as possible in contact with each other. Often that issue solves by eating one of the two flavors very fast, suppressing the pleasure of calmly enjoying an ice cream. Duegusti is a injected waffle cup, with two semi-spherical compartments separated by a slot serving as housing for a standard ø6 cm rounded waffle biscuit, which will then become an edible barrier that will separate the two different flavors.
Tell us who you are in brief.
I am an Italian product designer based in Milano, where I studied, I worked in several design studios and then founded my own, working on the full spectrum of design and collaborating with several companies, both Italian and foreign.
How did you discovered the award?
I constantly search the internet for new contests, workshops and in general challenges to test myself and improve my design skills. When I find one that is especially challenging or that investigates a particular theme that I care about or that I feel stimulating I apply with several entries, as happened with DESITA AWARD.
What is the main reason of participation?
I may be considered a romantic, but the motivation that moves me to design is to improve, even if just in a small part, people's lives with simple and clean objects, endowed with a cunning feature that can put a smile.
What are your main sources of inspirations?
Much of my work comes from careful observation of everyday life. I like to analyze human behavior to identify small problems to be solved with simple and practical solutions that also can be pleasing to the eye.
What is your dream as designer?
I truly believe in the social role of this job, so my dream is simply to ease people's lives with simplicity, coherence and naturalness.
OVUNQUE - 3° places
Larissa Moreno Ríos - Mexico
Tabata Paredes Bravo - Mexico
Ovunque is a package designed to bring you the experience of eating ice cream ad the name says, anywhere. It is a cardboard box which has special spaces to carry the cones and the ice cream pot. The package unfolds in such a way that you can place the cones and serve the ice cream in a more comfortable way. It also interacts with the experience, which is the fact that with this product, not only can you carry your ice cream, but a whole kit, including a spoon to serve and the cones! Ovunque promotes coexistence between your family and friends.
Tell us who you are in brief.
We are Mexican Industrial Design students, currently coursing the 6th semester at the Universidad Iberoamericana in Mexico City. We are two ice cream lovers who want to make an impact in the design world.
How did we discover the award?
We have had heard about the DESITA AWARD before. This year our design teacher told us about the new convocatory and encouraged us to participate and explore our abilities to show the world what we could do. This time we decided to get involved and design something different and with an insight that had not been explored before.
What is the main reason of participation?
As ice cream lovers, we wanted to keep the traditional way of eating ice cream, but giving the additional possibility of taking your ice cream anywhere you want. We think that ovunque gives people a different and enjoyable experience of going anywhere and share it with your beloved ones.
What are your main sources of inspiration?
We got inspired by the new generations, who stopped getting personal with one another because of technology. With our design, people can start getting together again and hang out like in the old times just to spend time and share their gelato experience. Our concept is simplicity but fun at the same time. It is easy to use but also interactive and entertaining. Every step of the experience is a surprise for the user.
What are our dreams as designers?
Our dream is to create products and services that can improve not only the experience of the people, but their life quality, always keeping in mind the users, the functionality and the aesthetics.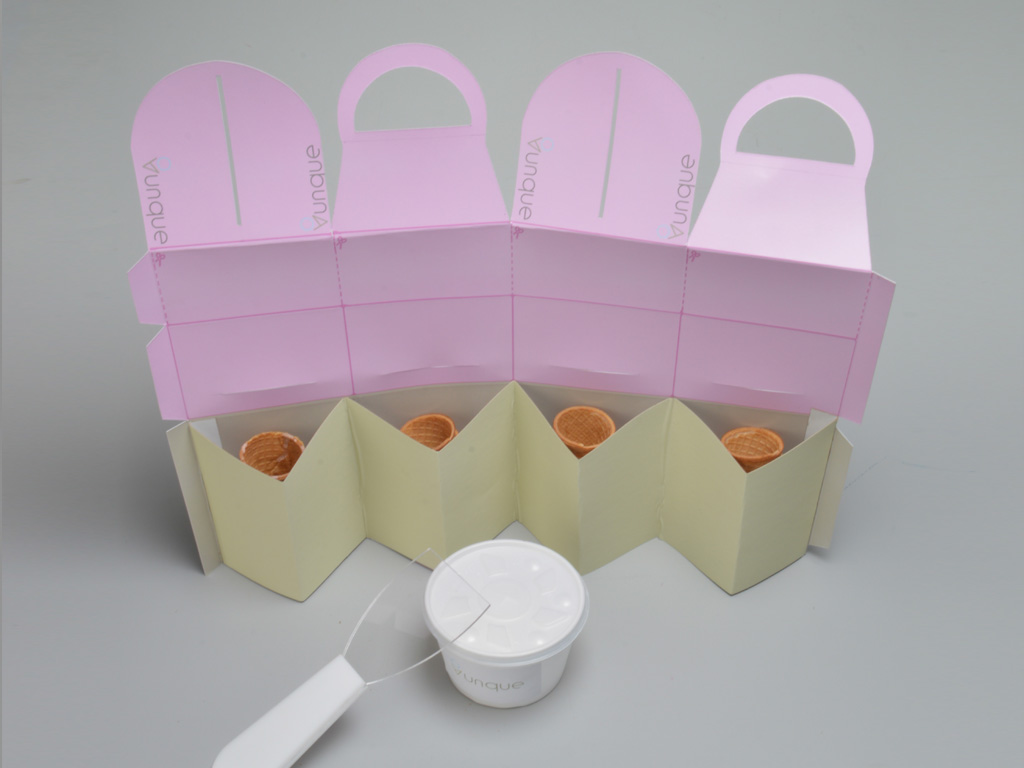 ICE CREAM BOOK - Jury special mention
María Georgina Pérez Slater - Mexico
Jesús Alejandro Toral Torres - Mexico
Every Ice Cream has a story…
The Ice Cream Book aims to provide a new experience with origami at the time of having an ice cream. The target is from 6 years onwards. The ice cream book would be sold along the ice cream you buy in the supermarket. The purpose of this book is to catch the attention of children's through main characters, who will tell the children's the stories of the ice creams and finally they will be invited to make a cone, a cup or any form in which they can eat ice cream, using origami.
Tell us who you are in brief.
We are a couple of young designers from Mexico City who like to look for new sources of inspiration.
How did we discover the award?
We discovered the award thanks to our teacher Daniela Ysusi, who encourage us to participate. We found it was an interesting theme, we were looking for a new challenge, but most of all we were looking to learn.
What are your main sources of inspiration?
Our main source of inspirations was our goal user, we wanted to create something fun for the children but at the same time create an experience that could offer something beyond that. Our childhood helped us remind how we used to see the world.
What are our dreams as designers?
We want to express what words can´t. We would love to merge our passions, industrial design and social service and have the possibility to make a better world through our skills.